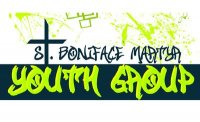 Our Youth Group gives teens the opportunity to meet and foster lasting friendships while exploring our faith and belief.
So, come, check us out, bring some friends, make some new ones!  Join our Facebook page "St. Boniface Youth Group".  Chris Mandato:  516-676-0676;  email:  stbonym@gmail.com.
Hey!
We are having an Ice Cream Social from 6-8 pm in the Youth Center Sunday, October 19, 2014.  We are welcoming new 8th Graders!
 Please bring different toppings and I'll provide the ice cream.
Catholic Heart Work Camp only has 4 spots left.  If you would like to come please bring in the permission slip along with the $85 deposit.