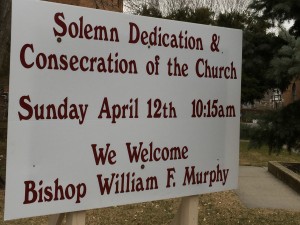 On April 12th at 10:15am
we welcome Bishop Murphy
as he comes to dedicate and consecrate our new church and altar.
All are encouraged to attend this joyful event in the life of our parish.

Renewing and Restoring the House of God – Building Our Future Begins Today!
A little over three years ago we, as a parish, began a discussion as to whether we wanted to renew, restore and update our church building. After positive discussion with parishioners, we began the next phase, the beginning our Capital Campaign. This process was implemented to see if we had the support to move forward. The overwhelming response to our Capital Campaign saw pledges of over one million, two hundred and thirty thousand dollars ($1,230,000.00).
With monies pledged we began the design stage of our renovation and updating of our church. Thirty-five people signed up to be part of the committee. They worked very hard with our liturgical designer, Larry Hoy, to come up with five designs which were presented to the parish after Mass on two weekends. In addition, groups of some of our younger parishioners and their families were asked for their input (youth group, altar servers and their families, First Communion families). These designs gave rise to some wonderful discussions and excitement. With the suggestions, ideas and comments, the committee took the three overwhelmingly top designs and suggestions and created the one design which was presented to the Parish.
As of Holy Week, 2015, there are still a few remaining items to finalize, but overall the work is near completion.  The first Mass in the new church takes place on Holy Thursday and we are able to celebrate the Triduum and Easter in the renovated building.  The dedication of the church and altar is scheduled for April 12, 2015 at 10:15 Mass.
It is still possible to make a pledge if you have not already done so. We will be contacting those who pledged to confirm what names they want on the Renovation Plaque that will hang in the vestibule.
This is a very wonderful time for our parish which will continue to generate excitement and renewed devotion to our worship of Jesus Christ as Lord!
Next Page:  Renewing and Restoring the House of God by Carol Griffin Gold Coast Gazette January 12, 2012