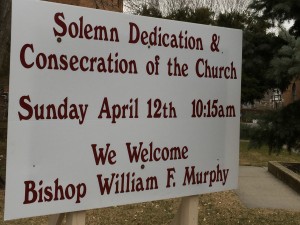 A three year effort aimed at "Renewing and Restoring the House of God" came to joyful fruition on April 12, 2015 when Bishop Murphy dedicated and consecrated our new church and altar.
We also renamed the Parish Center after our founding Pastor, Fr. Donohoe, and we renamed the Chapel located there the IHM Chapel in honor of the religious Sisters who taught at the former St. Boniface School.

In 2011 our Parish began a discussion as to whether to renew, restore and update our church building. After positive discussion with parishioners, the first phase, a Capital Campaign began. This phase was designed to confirm that we plan had sufficient support to move forward. An overwhelming response to the Capital Campaign saw pledges of over $1,230,000.00.
With monies pledged we began the design stage of our church renovation. Thirty-five people signed up to be part of the committee. They worked very hard with liturgical designer, Lawrence Hoy, to develop five alternative designs which were presented to the parish after Mass on two weekends. In addition, groups of our younger parishioners from among our Youth group, altar servers and First Communion families were asked for their input.
These designs gave rise to some wonderful discussions and excitement among the Parishioners. The committee used their suggestions, ideas and comments and developed a design proposal incorporating the three designs which had received the strongest support, and then presented that design to the Parish.
We celebrated Mass for the last time in the "old" Church on the Sunday after Christmas.  Following Mass a number of parishioners, young and old, pitched in to move sacramental elements and furniture next door to the St. Boniface Gym where we celebrated Mass on New Year's Day and on all weekends while the church was being renovated.
Enough of the work was completed to allow the first Mass in the newly renovated church to take place on Holy Thursday and we are able to celebrate the Triduum and Easter in the renovated building. During Easter Week, the new altar, ambo and many of the final design elements were completed by a construction crew working day and night so that everything was in place when Bishop Murphy arrived for the re-dedication and consecration of the church at 10:15 Mass on Sunday, April 12, 2015.
It is still possible to make a pledge if you have not already done so. We will be contacting those who pledged to confirm what names they want on the Renovation Plaque that will hang in the vestibule.
This is a very wonderful time for our parish which will continue to generate excitement and renewed devotion to our worship of Jesus Christ as Lord!
Click here to read about various statues installed in the renovated church.
Next Page:  Renewing and Restoring the House of God by Carol Griffin Gold Coast Gazette January 12, 2012