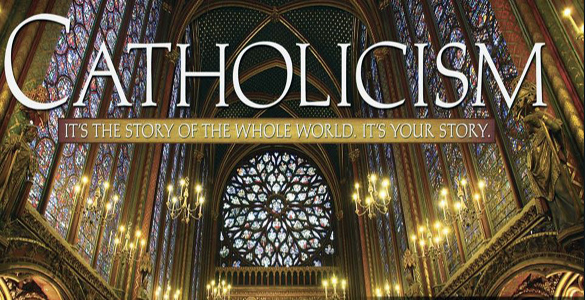 Catholicism: The Journey of a Lifetime:  An internationally recognized series presented by acclaimed author, speaker and theologian, Fr. Robert Barron.  It is a stimulating and compelling exploration of the spiritual, moral and intellectual treasures of our Catholic faith presented in a clear and understandable manner. We will watch a 1-hour episode on Sunday evenings followed by a discussion beginning April 27. Come join us for any or all of the ten sessions.  For further information,  that will be contact Deacon Tom at stbondcntom@gmail.com or by call the Parish Center at 516-676-0676.

April 27: Episode 1:  Amazed and Afraid: The Revelation of God Becoming Man.May 4: Episode 2:  Happy Are We: The Teachings of Jesus.May 11: No episode for Mothers' DayMay 18: Episode 3:  The Infallible Mystery of God.May 25: No episode for Memorial Day Weekend

June 1: Episode 4:  Our Tainted Nature's Solitary Boast:  Mary the Mother of God.

June 8: Episode 5:  The Indispensable Men: Peter & Paul and the Missionary Adventure.

June 15: No episode for Fathers' Day

June 22: Episode 6:  A Body Both Suffering and Glorious: The Mystical Union.

June 29: Episode 7:  Word Made Flesh, True Bread of Heaven (Liturgy and the Eucharist).

July 6: Episode 8:  A Vast Company of Witnesses: The Communion of Saints.

July 13: Episode 9:  The Fire of His Love: Prayer and the Life of the Spirit.

July 20: Episode 10:  World Without End: The Last Things.