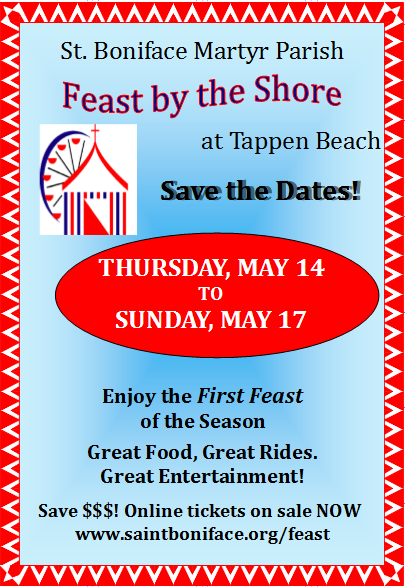 Please consider joining the Organizational Committee for this year's Fifth Annual "Feast by the Shore."
ALL ARE WELCOME!! It would be GREAT to see some new faces to help plan this year's fun-filled Family Event.
Next Meeting 4/16/15, in the meeting room next to the gym.
Special Advanced Sales Savings!!
Buy discounted tickets online for St. Boniface Feast By The Shore 2015
TO TAKE ADVANTAGE OF THIS Pre-Sale Wristbands (POP) $$$ SAVINGS YOU MUST PURCHASE BY NOON 5/14/15, YOUR PURCHASE CAN BE REDEEMED FOR ANY DAY OF EVENT (May 14-17, 2015) ONSITE AT THE TICKET BOOTH. (No Refunds or Exchanges)
Lots of exciting rides for the kids and thrill seekers * St. Boniface food tent! * Skill games for every age group, International Food Court * Local Entertainment Stage and much much more!
Hrs. Thursday 6-10pm, Friday 6-11pm, Saturday 1-11pm, Sunday 1-6pm
(No Refunds or Exchanges)