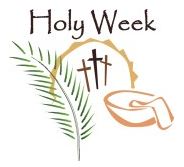 Holy Saturday
Saturday
March 30, 2013
9:00am:  Morning Prayer
11:00am to 12 Noon:  Confession
12 Noon:  Blessing of the Easter Food (Swieconka)
7:30pm:  The Easter Vigil (Mass)
Holy Saturday/ Easter Vigil
After 9am Morning Prayer, the Church continues her silent vigil awaiting the great news of resurrection.
At the Easter Vigil at 7:30pm, the Church competes the days of waiting and this culminated the Great and Holy Triduum. The days of waiting are about to end. God will redeem humankind in the silent hours of the night .God shakes the world from its slumber and the power of resurrection touches the world from that darkened tomb. This night we enter the Church in darkness that will be lit by the fire of the watchman who awaits the dawn of resurrection.
The Pascal /Christ/Easter Candle is blessed and consecrated and gives light to the darken church. As the candle is solemnly processed to the altar, the faithful are invited to light their Baptismal candles. The church is filled with the light of Christ and those who have, through Baptism, dedicated themselves to continue the work of Jesus. The great Easter Proclamation or Exsultet is sung announcing the great and wondrous work of Jesus.
The readings that are read are a highlighting of the history of our salvation, beginning with the creation of the world. The Holy Water is blessed and the faithful renew the promises made at Baptism. Any adults seeking entrance into the Church are baptized at the Easter Vigil. At the Gospel acclamation we hear the great "Alleluia" heard for the first time since Lent began. It is the great story of the empty tomb, which we have waited these 40 days to hear. To distinguish the glorious celebration of Easter and the joy in hearing the Alleluia again, we shall sing it before and after the Gospel. At the end of Communion the Blessed Sacrament will again be solemnly placed in the Tabernacle.
See the Holy Week and Easter Schedule