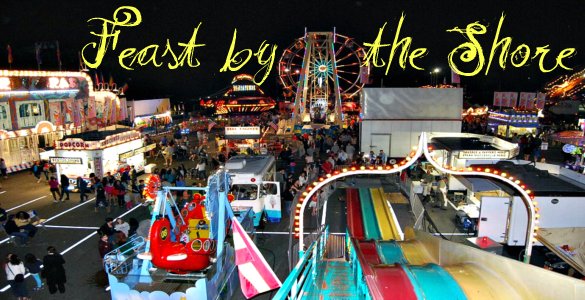 Special Advanced Sales Savings!!

Buy tickets for St. Boniface * Feast By The Shore *

TO TAKE ADVANTAGE OF THIS ADVANCE SALE $$$ SAVINGS YOU MUST PURCHASE BY NOON 5/15/14

YOUR PURCHASE CAN BE REDEEMED FOR ANY DAY OF EVENT ONSITE AT THE TICKET BOOTH.

(No Refunds or Exchanges)

 Hours:

Thursday 5/15 6-10pm;
Friday 5/16 6-11pm;
Saturday 5/17 1-11pm;
Sunday 5/18 1-6pm
Great Food!

 Wonderful Live Entertainment!

 Fun Rides!

Entertainment Schedule

2014 Live Entertainment
Every day in the Showmobile!

 
 
 
Thursday, May 15th
 
 
 
6pm-9pm

Bryce Larsen 

Friday, May 16th
 

 

 
7pm-11pm

 Chicken Head

Saturday, May 17th
 

 

 
2pm-4pm

Tofu 

 
7pm-11pm

 Chris Rice and Company

Sunday, May 18th
 

 

 
1pm-2pm

Contemporary Christian Music 

 
2pm-2pm

Bob Reiger


 


Location

The Feast by the Shore is held at beautiful Tappen Beach, on the shore of Hempstead Harbor, bordering Sea Cliff and Glenwood Landing.

Harry Tappen Beach 

(View)

Shore Road

Glenwood Landing, NY 11547

United States

Tickets:

"POP" (Pay One Price) is in effect for each day of the Feast! Your daily POP ticket gets you free rides all day!


Food and Drink Directory

Feast Food Court:  Hamburgers, Bratwurst, etc.
Villa Romeo:  Meatball heroes;  sausage and peppers;  fried ravioli
Arata's Hotdog Cart
Feast Bakery/Café:  sponsored by Dunkin' Donuts, St. Rocco's Bakery, North Shore Farms, Landing Bakery, Brookville Deli
Beer & Wine Garden:  featuring Bud, Bud Lite, Stella and wine