"Thank you for continuing to support your parish and the vital ministries of our Church as your means allow during this most challenging time for all of us. The Church continues to serve the spiritual and physical needs of people… Weekly collections mailed or given online will be critical to the sustaining and reemergence of our parishes".

– John O. Barres, Bishop of Rockville Centre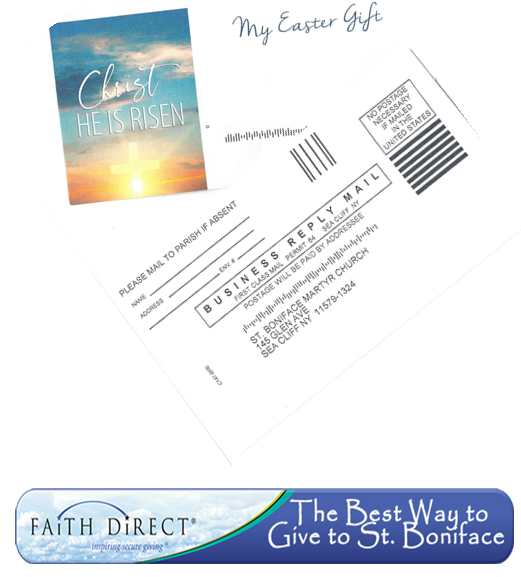 During this time of social distancing, St. Boniface Parish is still here for you. Masses, Holy Week Liturgies, the Lenten Workshop Series, Stations of the Cross, etc., have been made available online.

While we may not be physically together to bring our gifts to the altar, St. Boniface still needs our support. Please consider using digital giving. The parish has been using it for a few years now and would like our generous benefactors to move to "eGiving" as the preferred means of giving,even when the health crisis is over. Here is how to do it:
Faith Direct, a secure and easy way to support your parish from the comfort and safety of your own home.

Note: Faith Direct will provide printed cards which you may deposit in the baskets every Sunday so that we may still bring our gifts to the altar during the Offertory Procession, as we have been doing with our offering envelopes.

Your donation may also be mailed to St. Boniface. If you receive weekly offering envelopes, a post-paid envelope is enclosed therein, or you may use your own envelope addressed to:
St. Boniface Martyr Church
145 Glen Ave
Sea Cliff NY 11579-1324