In June, 20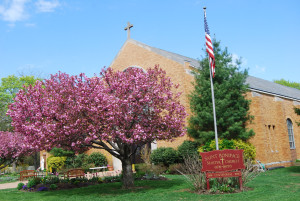 07, St. Boniface bid a fond farewell to Fr. Mike Torpey, who had been Pastor since 1989.  Fr. Mike had led the parish through some momentous times, assisting in the founding of All Saints Regional Catholic School and helping the parishioners explore their baptismal roles as Catholic Christians by helping them grow into new responsibilities as St. Boniface became a "one priest parish".
That same month, St. Boniface welcomed a new Pastor, Fr. Robert A. Romeo.  St. Boniface was Fr. Bob's first assignment as Pastor of a parish, but he soon proved to be more than equal to the job and to be a great blessing to the parish, ushering in a renewed spirit and an era of great growth, much of which is detailed in this publication.
Father Bob served as Pastor of St. Boniface Parish from June 21, 2007 to June 24, 2015 when he was assigned as the new Pastor of the Parish of St. Mary, Manhasset.  Fr. Kevin Dillon, Associate Pastor of St. Aidan's, Williston Park, became the new Pastor of St. Boniface.
2007 – New Pastor Appointed to St. Boniface Martyr Parish
ROCKVILLE CENTRE, NEW YORK, June 21, 2007—The Most Reverend William Murphy, Bishop, Diocese of Rockville Centre, appointed Father Robert A. Romeo pastor of St. Boniface Martyr parish, Sea Cliff, N.Y., effective June 27, 2007. "I was shocked and very pleased in the bishop's confidence," Father Romeo said of the appointment.
Born in Plainview, N.Y. and raised in Dix Hills, N.Y., Father Romeo attended Cathedral College, Douglaston, N.Y. and earned a bachelor's degree in sociology from St. Joseph's College, Patchogue, N.Y. He attended the Seminary of the Immaculate Conception, Huntington, N.Y., and was ordained into the priesthood on May 9, 1987.
 His first assignment was as associate pastor of St. Christopher parish, Baldwin, N.Y., followed by Cure of Ars parish, Merrick, N.Y., where he served for 10 years. During his time in Merrick, he helped coordinate diocesan pilgrimages and served as a firefighter and department chaplain in the Merrick Fire Department.
"I miss fighting fires," he said. "It's the total opposite of what I usually do."
In 2002, Father Romeo was appointed to St. Peter of Alcantara parish, Port Washington, N.Y. He said he will miss the parish, but looks forward to connecting with the people of St. Boniface Martyr.
"That's one of the most difficult parts of being a priest: leaving your home," he said. "There's always a place in your heart for the people from your assignments."
Father Romeo said there has already been an overwhelming welcome in Sea Cliff. During a recent visit, everyone from bank tellers to library guests gave him a warm greeting.
"I've been very blessed because every one of my assignments has been wonderful," he said. "Every parish I've been in have been moments of growth for me."
St. Peter of Alcantara is a parish of 2600 families. He will be the only priest at St. Boniface Martyr, where 1300 families worship. One of his goals as pastor is to create a youth ministry there, and to "always be grounded in Jesus and the Word."
Father Romeo serves as an advocate for the annulment process and an assistant master of ceremonies for major diocesan events.
In his free time, he enjoys water and snow skiing, bowling, tennis and reading history and fiction novels.
Editor's Note: Photo Courtesy of The Long Island Catholic/Greg Shemitz
Meet Fr. Bob
St. Boniface Martyr's new pastor, Rev. Robert Romeo, arrived at the parish on June 27. Father Bob, as he likes to be called, said he is happy to be a priest. As a priest, he feels privileged to be invited into people's lives on a daily basis and during their joyful as well as sad moments. It's an honor and it's what he loves about being a priest.
Father Bob attended local schools including Commack High School South, Cathedral College and St. Joseph's College in Patchogue before attending Immaculate Conception Seminary in Huntington. He was ordained by Bishop John McGann as a priest for the Diocese of Rockville Center in 1987. Prior to his ordination, he served his pastoral year at St. Joseph's in Ronkonkoma. His first parish was St. Christopher's Parish in Baldwin for five years as an associate pastor moving on to Cure of Ars in Merrick in 1992. In 2002, he was assigned to St. Peter Alcantara in Port Washington until recently when he was appointed as a pastor of St. Boniface in Sea Cliff.

In addition to serving as an associate pastor for 20 years, he has served as a diocesan assistant master of ceremonies for major masses and events at St. Agnes Cathedral, as well as at Confirmations around the diocese. He also has served as an advocate for the diocese of Rockville Centre assisting people seeking annulments.

Father Bob said he is strong on well-celebrated joyful liturgies and big on prayer, scripture and teaching. He said his personal energy for serving as a priest comes from his prayer life and the people he serves. "Everything I do is based on prayer and scripture," he said.

During his day off, he frequently goes to his family's vacation house at Lake Hopatacong in New Jersey, where he spends time in prayer, with the scriptures and in relaxation.

His previous parish involvements range across the board from experiences with young children to senior members of the parish, involvement with liturgy, sacraments, outreach, and various forms of prayer. He particularly noted being involved in a "Midnight Run," where he and others took a group of young adults to New York City to distribute clothing, food, and toiletries to homeless people.

Father Bob said he grew up on Long Island in Dix Hills where he is the second of four boys. Family is important to him, and he regularly spends time with his parents, his brothers and their families, and his godchildren. He also likes spending time with his friends. He especially likes quiet evenings with close friends.

He likes sports such as water skiing, snow skiing and hiking in the mountains, reading, the beach and being on the water.

Other special involvements since he was ordained include serving as a Class A interior firefighter in the Merrick Fire Department for eight years and being part of their racing team. He has been a chaplain in New York City for Squad #288 in Queens and he was very involved with 9/11.

Father Bob mentioned that he is grateful to St. Boniface's previous pastor Father Michael Torpey, who has been very kind and helpful to him making his transition into the parish easy.

"The parish has been extremely welcoming. I enjoyed the sign. It was very comforting. I love the people stopping by at the rectory to say hello. I look forward to meeting everyone and hearing about your visions and hopes for the parish. Please don't hesitate to contact me over anything.  To sum up my feelings about St. Boniface, I want to quote McDonalds, 'I'm lovin' it,' said Father Bob.

The parish welcomes Father Bob and wishes him much success and happiness in his time at St. Boniface.

The following article appeared in what happened to be the final print edition of the Long Island Catholic on October 10, 2012

Jubilarian 'ran from vocation,' but later found it

SEA CLIFF — While still very young, Father Bob Romeo recalls, "I knew that God was calling me to the priesthood, but I tried to run from it."I wanted a typical life," said the pastor of St. Boniface Martyr Church here. "I wanted to be married, to have children, but God had other plans for me."In April, Father Romeo celebrated his 25th anniversary as a priest when his parishioners threw a surprise party for him.Father Romeo, son of Fran, a homemaker, and Gabriel, a banker, grew up in Plainview, one of four boys. They attended St. Pius X Church. "My parents were really involved in the life of the church," participating in groups like the Holy Name Society and the Altar-Rosary Society."We had priests who were friends and visited our home," Father Romeo said. Msgr. Jim Kelly was associate pastor. "He was a great friend" and an influence on young Romeo.

Later the family moved to Dix Hills, where they belonged to St. Matthew's Church. Among the priests who influenced him there was Msgr. James McDonald "who was in love with the priesthood and in love with the Eucharist. He saw God in everything."

Though he felt the calling, Father Romeo said, he went to Elizabethtown College in Pennsylvania to study business. After one semester he left. Eventually, he entered the Seminary of the Immaculate Conception, Huntington. "The academics were great. I was opened up to the teachings of the Fathers of the Church."

He also valued his pastoral year at St. Joseph's, Ronkonkoma, both for the experience of living and working in a parish and for knowing the pastor, Father Charles Kohli.

"He is one of the most spiritual men I know, but also very human. Fun," Father Romeo said. "He's been a powerful influence on me and my priesthood."

Father Romeo was ordained May 9, 1987, and assigned to St. Christopher's Church, Baldwin.

"I heard a priest say that you leave part of your heart at your first parish, and that was true for me," he said. He cited Msgr. John Bennett, the pastor, and two other associate pastors, and how well the four worked together.

"We had different spiritualities, but we were united in ministering to the parishioners. I learned the meaning of unity," Father Romeo said. They also served as chaplains at South Nassau Communities Hospital in Oceanside, "which was a place that had special moments for ministry."

In 1992, he was transferred to Curé of Ars, Merrick. "I served under two pastors, Msgr. James Swiader and Father James Mannion, and I learned from both of them."

At Curé, he also became a volunteer firefighter and chaplain for a fire company. He said he was profoundly affected by the aftermath of the terrorist attacks on the World Trade Center on Sept. 11, 2001.

"You could see that people needed Jesus in their lives," Father Romeo said.

At Curé of Ars he also had more opportunities for ministry with adults. "I loved Rite of Christian Initiation of Adults (RCIA)."

Father Romeo became associate pastor of St. Peter of Alcantara, Port Washington, in 2002. He praised the pastor, Msgr. Dan Picciano. Father Romeo enjoyed visiting the parish school as well as working with the youth minister.

"We had about 80 to 90 kids" who were involved in a variety of activities, from regular meetings to such projects as "The Midnight Run," where they go into Manhattan to offer food to homeless people.

"Most important we focused on Jesus," Father Romeo said.

For years, he resisted becoming a pastor because, "in the words of one of my former pastors, I wanted to avoid 'the Three Ls, leaks, locks, and ledgers.'" Yet in 2007, he was assigned to his first pastorate, St. Boniface here.

"I found that I love being a pastor" because it offers unique opportunities to serve.

An important element of leadership is working with groups of parishioners to call upon their expertise and insight for the direction of the parish.

Still, the pastor ultimately must make the decisions, Father Romeo said, "but he must come to it in prayer so that the Holy Spirit can direct us."

One surprise he has found since becoming a priest "is how warmly people welcome you. I was once at a family's house for a barbecue and realized after a while that I was the one person there who wasn't part of the family." His first reaction was that he didn't belong, but soon realized: "No. I am a part of the family."

One difficult aspect he sees is the fact that priests are regularly transferred from one parish to another. "You build relationships and then you have to move on," Father Romeo said, "but I understand it because it involves the greater good of the diocese."

What he likes best about being a priest is celebrating the Eucharist. "If you do more than say the words but actually pray them," Father Romeo said, you can see the Eucharist for what it is — Jesus' "great gift of self to us."

Despite his past reservations, "I love being a priest and I'm amazed that I became one. I can't imagine being anything else."