MASS & RECEPTION – 80th  Anniversary!
In Honor of the Feast of St. Vincent de Paul and our 80th Anniversary as a Parish Conference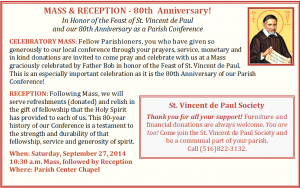 CELEBRATORY MASS: Fellow Parishioners, you who have given so generously to our local conference through your prayers, service, monetary and in kind donations are invited to come pray and celebrate with us at a Mass graciously celebrated by Father Bob in honor of the Feast of St. Vincent de Paul. This is an especially important celebration as it is the 80th Anniversary of our Parish Conference!
RECEPTION: Following Mass, we will serve refreshments (donated) and relish in the gift of fellowship that the Holy Spirit has provided to each of us. This 80-year history of our Conference is a testament to the strength and durability of that fellowship, service and generosity of spirit.
When: Saturday, September 27, 2014, 10:30 a.m. Mass, followed by Reception
Where: Parish Center Chapel