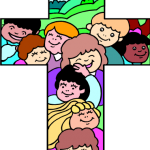 The St. Boniface Parish Religious Education Program assists parents with the sacred responsibility of educating their children in the Catholic faith. Our parish offers both formal classroom instruction and a Family Program of religious instruction. For more information, please contact Karen Croce at 516-671-0418 or by email at stbonccd@gmail.com.
This year's religious education program will continue virtually through the end of the 2020- 2021 school year. We are praying that we will be able to meet in person again at the beginning of the 2021-22 school year in September 2021.
Classes will be held virtually via the Zoom platform for all grades K through 8.
The schedule for classes will be sent in early September but the e-books are available now for you to look at and explore.
Once your final registration form and fee is received you will be sent a link to have access.
In consideration for the hardships incurred because of the Covid 19 virus the fees for this year have been reduced.
The fees for all children will be $100 per child for the year.
Registration: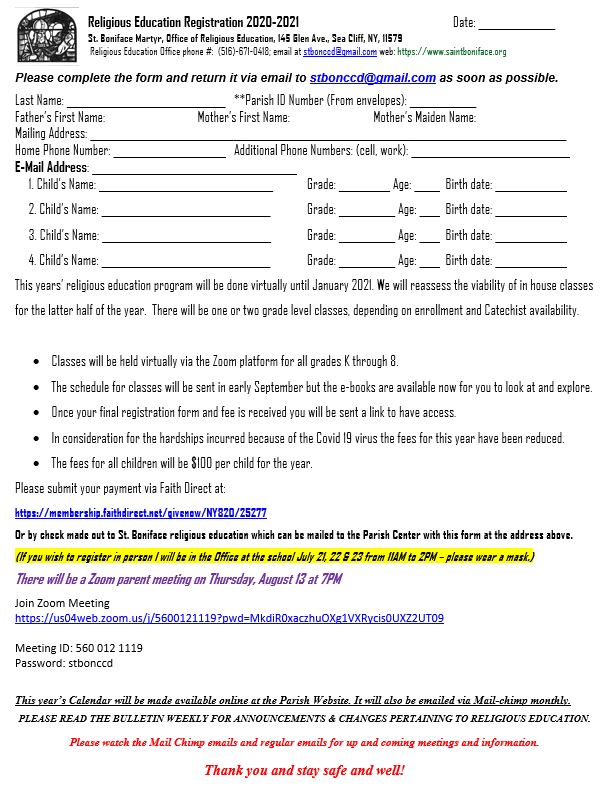 Registration
Please complete the form and return it via email to stbonccd@gmail.com as soon as possible.
Payment
Please submit your payment via Faith Direct at:
https://membership.faithdirect.net/givenow/NY820/25277
Or by check made out to St. Boniface religious education which can be mailed to the Parish Center with this form at the address above.
(If you wish to register in person I will be in the Office at the school July 21, 22 & 23 from 11AM to 2PM – please wear a mask.)
Parent meeting Thursday, 8/13/20 at 7PM via Zoom
Join Zoom Meeting:
https://us04web.zoom.us/j/5600121119?pwd=MkdiR0xaczhuOXg1VXRycis0UXZ2UT09
Meeting ID: 560 012 1119; Password: stbonccd
This year's Calendar will be made available online at the Parish Website. It will also be emailed via Mail-chimp monthly.
PLEASE READ THE BULLETIN WEEKLY FOR ANNOUNCEMENTS & CHANGES PERTAINING TO RELIGIOUS EDUCATION.
Please watch the Mail Chimp emails and regular emails for up and coming meetings and information.
Thank you and stay safe and well!
Any questions please call the Religious Education Office at 516-671-0418.