A Parish Lenten Journey with Jesus and Mary
Presented by Tony Belizzi
7:30 pm in the Church
April 8th, 9th and 10th, 2019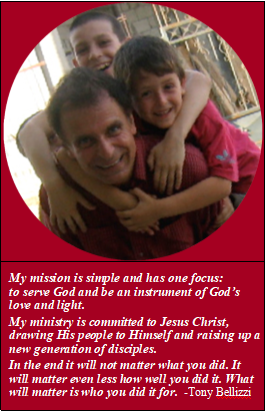 Tony Bellizzi is a retreat director, inspirational speaker, professional educator, performance artist, youth minister and prison minister. The Founder and Director of The Hope for the Children Foundation, Tony is also a published author of several books and CDs. Tony is "home grown" having received his M.A. from the Seminary of the Immaculate Conception in Huntington.
An evangelist for forty three years, Tony offers a wide variety of presentations in a simple down to earth style for every age group anywhere in the world and has lead several retreats for St. Ignatius Retreat House and St. Boniface Martyr Parish.
Tony conducts over 500 Spiritual Retreats annually, providing powerful experiences of God's abundant love and mercy for Catholic Parishes and Schools. Tony's inspirational retreats open hearts, energizes souls and changes lives by bringing people the Good News of the saving power of a personal relationship with Jesus Christ and participation in the Life of His church.
Enhance your Lenten experience this year by joining us for our Parish Mission, A Parish Lenten Journey with Jesus and Mary at 7:30 pm at St. Boniface Martyr Church. You'll be glad you did!
April 8: Opening up Your Heart to Jesus, Journeying with Our Lord Closer and Deeper than Ever Before.
April 9: Journey with Jesus, focusing on the topics and themes surfaced by the parish, plus the Journey with Jesus Guided Meditation Experience
April 10: Full of Grace – Mary as model of faith and her apparitions. To learn more about Tony Bellizzi and his many ministry projects, books and CDs, please visit TonyBellizzi.com and HopefortheChildren.org.