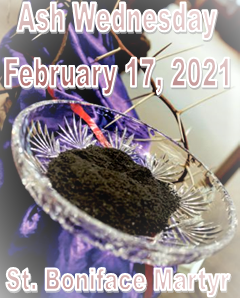 Ash Wednesday Schedule
On Ash Wednesday, February 17, 2021, ashes will be distributed by sprinkling them over one's head so as to make it contactless. Ashes will NOT be imposed on foreheads this year to avoid contamination of the priest or ministers and congregants. Ashes will be distributed inside the church at 8 am Mass and 12:15 pm Mass, and at two Word Services outside the front of the Church at 4:30 pm and 5:30 pm with distribution of Ashes from 4:30 pm to 5 pm and 5:30 pm to 6 pm.

* Ministers will be at the main entrance of the Church. Entry into the Church is not required, however you may come in for private prayer, if you wish. *Please Note: You may stop by anytime within the "outside" time frame to receive ashes, perhaps on your way home from work.