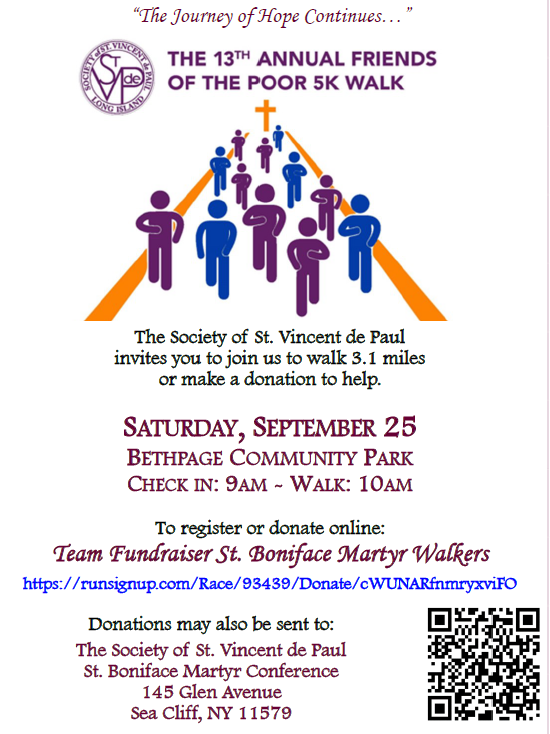 The Society of St. Vincent de Paul invites you to join us to walk 3.1 miles or make a donation to help.
Saturday, September 25 Bethpage Community Park
Check-in: 9 am – Walk: 10 am
Click here to register or donate online: Team Fundraiser St. Boniface Martyr Walkers

Donations may also be sent to:
The Society of St. Vincent de Paul
St. Boniface Martyr Conference
145 Glen Avenue
Sea Cliff, NY 11579
Your donation to the Friends of the Poor 5K Walk/Run could make the difference for those in temporary need in our community. If you are in a position to give financially, please help our struggling neighbors get back on their feet and on a pathway to self-sufficiency. Thank you!
Your Neighbors Need You!
The Society of St. Vincent de Paul helps approximately 150,000 Long Islanders in need each year. From the Queens-Nassau Border to the East End, we provide people struggling with the effects of poverty with the financial, material, emotional, and spiritual assistance they require to overcome poverty and become self-sufficient. We need you to continue the work we have been doing in our parish for more than 86 years.
Unable to Walk or Run? You Can Still Help . . .
by making a donation to "SVDP at St. Boniface Martyr" with the word "walk" in the memo area and placing your check in the St. Vincent de Paul box by the choir loft stairs in the church vestibule, or by mailing your donation to:
SVDP St. Boniface
145 Glen Avenue
Sea Cliff, NY, 11579