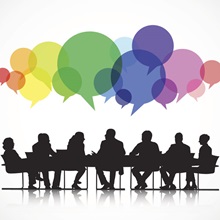 Parish Council Meeting Minutes
January 30, 2018 at the Rectory
In attendance: Fr. Kevin, Fr. Perera, John Daley, Bill Schiller, Scott Whitting, Ben Szemerenyi, Debbie Mink, Joe Giordano, Gina Pisciotta, Belinda Basaca Zeitlin.
Opening Prayer
Discussion of concerns brought up: in light of the flu epidemic whether we will hold hands during the Our Father, shake hands at sign of peace, continue offering the Precious Blood, have coffee and cake after mass during Lent; Emergency Preparedness and Precautions.
After consultation with both the Staff and Pastoral Council, decision was made to keep the current practices in place. We will not discontinue any of the aforementioned suggestions, but rather leave it up to the individuals who may choose NOT to drink from the chalice and who may choose to abstain from the Sunday morning coffee/cake. The amount of precious blood however, will be decreased as there seems to be some left over at every mass and many ministers do not want to consume the remaining precious blood in the chalice.
Deacon Frank McGuinness of the Office of Risk management of the Diocese contacted Fr. Kevin and stated that parishes should have some plan of action emergency preparedness, whether it is an individual suffers a medical emergency such as a heart attack, a terrorism type event, other emergencies. Members of the Pastoral Council will look into/research training for these emergency events.
Parish "Thank You" Party – March 18, 4pm-8pm, at Knights of Columbus.
Discussion of Lenten Parish Mission, March 19-21, which this year will be led by a layperson, Jim Ryan.
Former Pastor, Fr. Mike Torpey's 50th anniversary as a priest, Sunday June 3rd at noon. He will be saying 12 noon mass at St. Boniface to celebrate this occasion!
Deacon Tom St. Boniface Lecture in the church possibly for June 10th in honor of Feast Day of St. Boniface, will also have light refreshments, raffle, suggested donation $10 will include raffle ticket. To be hosted by the Madonna Mother Support Circle. Belinda will verify date with Deacon Tom.
Marriage tips video pro bono video to be done with married parishioners giving tips for a lasting marriage, to be unveiled at the lecture in June. These can be used for Pre–Cana and Madonna Mother Support Circle ministries.
Parish Yard Sale: September 29
Handel's Messiah: December 2
Christmas Around the World: December 8
Welcome Committee: Each new parishioner family receives a folder with all the ministries, Faith Direct, etc. after they register in the parish.
Helping Hands Contact List discussion: benefits vs. liabilities; will look into legalities
Miscellaneous news: Back field legal issues: we needed to have a fence built in, so we got one and the field is now all fenced in. Also, cars are not to block the garage behind rectory because priests need the way clear for emergencies.
Open floor for questions from the Council:
Pastoral council virtual; suggestion box; ¨stbonpc¨ email – Belinda to speak with Robert Lynch to set up, Belinda will also distribute all the pastoral council email addresses to its members.
Next Pastoral Council will be scheduled for some time in June – exact date TBA and emailed to all members in lieu of postal mailing.
Closing Prayer