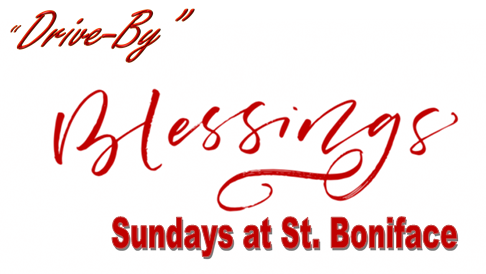 Starting Sunday, May 3, 2020 "Drive – By Blessings" will be given in front of St. Boniface Church on Sundays from 9:45 am to 10:15 am and then again from 12 noon until 12:20 pm.
PLEASE READ THE FOLLOWING DIRECTIONS
IF YOU WISH TO PARTICIPATE:
The blessings will be done strictly as a "drive-by". Simply slow down and wave. And a Priest will sprinkle Holy Water and make the sign of the cross in blessing.
DO NOT GET OUT OF YOUR VEHICLE! THIS IS A DRIVE – BY EVENT!
If it is found that people are exiting their vehicles or walking up to the church, the blessings will have to be cancelled.
Please be mindful and respect each other and our clergy.
If all goes well, the blessings will continue each Sunday, weather permitting.