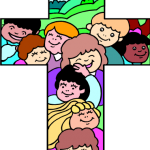 The St. Boniface Parish Religious Education Program assists parents with the sacred responsibility of educating their children in the Catholic faith. For more information, please contact Karen Croce at 516-671-0418 or by email at stbonccd@gmail.com.
Religious Education Registration for the 2021-2022 formation year has concluded. If you have not registered your child for religious education please contact Mrs. Croce at the Parish Center office at 516-676-0676 as soon as possible.
In observance of the CDC guidelines and our continued efforts to consider the safety and wellbeing of our students and Catechists we are attempting to keep the class sizes down; in order to do that we need additional Catechists (Teachers). If you are willing to assist us please call Mrs. Croce at 516-676-0676 or email her at stbonccd@gail.com.
Thank you and God Bless you for your assistance.
There will be a Virtual Parent Meeting for Families enrolled in Religious Education on Friday, September 10 at 7pm
Parent Online Meeting at https://us04web.zoom.us/i/73384767769?pwd=aERFZVZxNVZ1RnY2SStUc1R4NUInUT09.
Book Pick-up Day is Sunday, September 12, from 10am to 1:30pm in the St. Boniface School Building at the Main Street doors.
Classes begin September 21-22.
Please complete the attached registration form for the 2021-2022 Faith Formation year. All Baptismal information must be included!
We will do our best to place your child in a session but please note that class sizes are limited because of the guidelines set forth by the CDC that seem to still be in place. So please register early so that we can arrange meeting spaces accordingly.
No requests for being in class with friends will be accepted. Class placement is on a first come first serve basis only.
Catechists are needed in all grades especially this year as we are trying to limit class sizes. Please consider volunteering. We will train you and assist you in this ministry. Parent volunteers are essential to the success of the program. Catechist offering for the year is at a reduced rate!
Please send in your completed registration form no later than July 15, 2021. Please refer to the application drop-off dates below. Any form received after that may possibly not get into a class and alternate arrangements will have to be made.
Gratefully things are slowly improving and we are starting to get back to a world that more closely resembles the days of the past but we are not quite there yet. Thank you for your patience and understanding.
God Bless you all. Stay safe and well!
Registration, 2021 – 2022
How to Register
1. Download Registration Form:
Either:
a. Download printable .pdf form here:
b. Or use QR Code:

2. Submit:
Print and complete the registration form and return it via email to stbonccd@gmail.comas soon as possible, OR
Drop off forms on Tuesday, June 8, 15 or Wednesday, June 9, 16 at the Religious Education Office in the school from 10 am-1 pm. Mrs. Croce is also available in the Parish Center Main Office on Mondays, Thursdays & Fridays from 10 AM to 2 PM (516) 676-0676.
Payment
Please submit your payment via Faith Direct at:
https://membership.faithdirect.net/givenow/NY820/25277
Or by check made out to St. Boniface religious education which can be mailed to the Parish Center with this form at the address above.
Parent meeting
A tentative Zoom parent meeting on Friday, September 10, 2021, at 7 PM
(If possible we may meet in person in the church instead, watch for updates)
Join Zoom Meeting
https://us04web.zoom.us/j/73384767769?pwd=aERFZVZxMVZ1RnY2SStUc1R4NUlnUT09

Meeting ID: 733 8476 7769
Passcode: 8ypWut
This year's Calendar will be made available online at the Parish Website. It will also be emailed via Mail-chimp monthly.
PLEASE READ THE BULLETIN WEEKLY FOR ANNOUNCEMENTS & CHANGES PERTAINING TO RELIGIOUS EDUCATION.
Please watch the Mail Chimp emails and regular emails for up and coming meetings and information.
Thank you and stay safe and well!
Any questions please call the Religious Education Office at 516-671-0418.