Pope Francis
formerly
Jorge Cardinal Bergoglio, Archbishop of Buenos Aires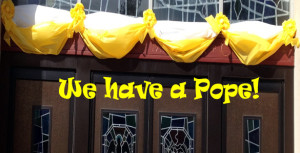 Bishop William Murphy and the Roman Catholic Church of Rockville Centre join the universal Church in rejoicing in the selection of Cardinal Jorge Mario Bergoglio of Buenos Aires as Pope. We give thanks to God for the gift of Pope Francis, the 266th successor of Saint Peter, the Vicar of Christ on earth.
We join the Church in prayer for our new Holy Father as he begins his new ministry. Bishop Murphy asks all the faithful of the Diocese to join him and his brother bishops of this local Church in offering prayers of thanksgiving to the Lord for our new Holy Father.
At the Cathedral of Saint Agnes and in all the other parishes of the Diocese, Bishop Murphy and his brother priests will celebrate Masses of Thanksgiving in union with the Pope when he offers Mass at Saint Peter's Basilica to mark the beginning of his pastoral ministry as Bishop of Rome, Successor of Saint Peter, Vicar of Christ and Universal Shepherd of the Catholic Church