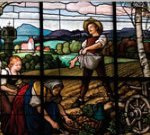 You are cordially invited to a FUNdraiser to support our St. Boniface Martyr Parish Outreach Center  & St. Vincent de Paul Parish Conference.
This FUNdraiser is an opportunity to see old friends and make new friends all while sharing your bounty and raising money for the needs in our community!
The evening will consist of a buffet dinner catered by Brookville Delicatessen & Caterers, dessert, wine, beer, soft drinks, coffee and tea.
Prize Baskets and a 50/50 Raffle
Mark your calendar for:
Sunday, October 15, 2017 from 4pm to 8pm
Knights of Columbus Hall, 83 Sea Cliff Avenue, Glen Cove
Ticket Prices:    $30.00 Seniors    $40.00 Adults
**Anyone who brings a NEW unwrapped game, toy, Lego set
or sports ball will receive 7 free basket chances.
(**limit one offer per person)
Please purchase your tickets in advance.
Tickets will be sold after Mass starting in mid September or may be purchased at the Parish Office.
If you have any questions, would like to help with the event, or would like to donate a basket, please contact
Jovanna Lemonda at Jovanna.Lemonda@gmail.com or Pat Fox at pattomfox@gmail.com or 676-1443.