Feast by the Shore 2013 Report and Thank you brochure:
Click here to Visit our Facebook Feast Page Photo Galleries
Our Feast Facebook page is at www.facebook.com/FeastbytheShore
Great Food

Wonderful Live Entertainment

Enjoy the First Feast of the Season!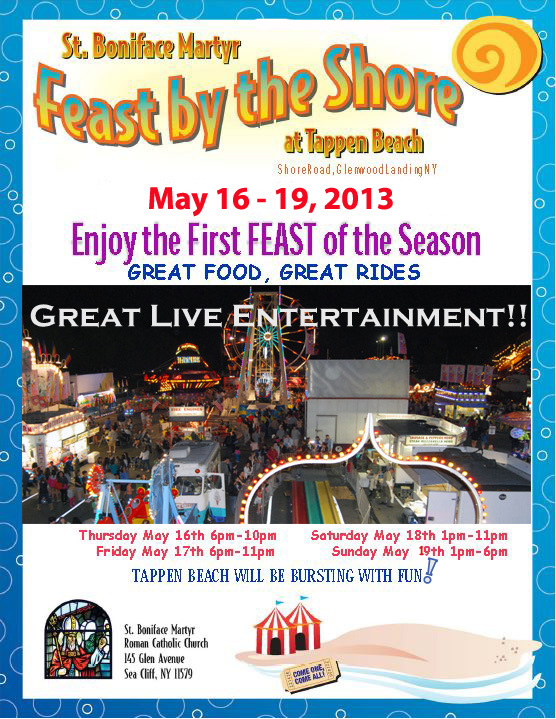 Thursday, May 16th
 
 
 
6pm-9pm

"Andy Aledort and The Groove Kings",
featuring Susie Oswald

Friday, May 17th
 

 

 
7pm-11pm

"Six Gun"

Saturday, May 18th
 

 

 
1pm-3pm

"TOFU"

 
7pm-11pm

"Chicken Head"

Sunday, May 19th
 

 

 
1pm-2pm

"Last Resort"

 
3pm-5pm

Bob Rieger
The Feast by the Shore is held at beautiful Tappen Beach, on the shore of Hempstead Harbor, bordering Sea Cliff and Glenwood Landing.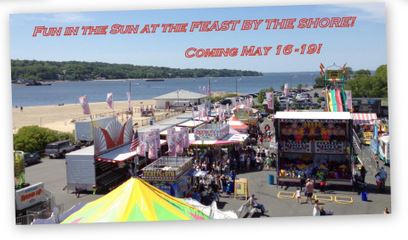 "POP" (Pay One Price) is in effect for each day of the Feast!
Your daily $25 POP ticket gets you free rides all day!
Feast Food Court:  Hamburgers, Bratwurst, etc.

Villa Romeo:  Meatball heroes;  sausage and peppers;  fried ravioli
Arata's Hotdog Cart
Feast Bakery/Café:  sponsored by Dunkin' Donuts, St. Rocco's Bakery, North Shore Farms, Landing Bakery, Brookville Deli
Beer & Wine Garden:  featuring Bud, Bud Lite, Stella and wine