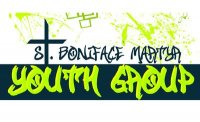 Our Youth Group gives teens the opportunity to meet and foster lasting friendships while exploring our faith and belief.
Check us out, bring some friends, make some new ones!  Join our Facebook page "St. Boniface Youth Group".
Our K

ick-Off, Meet & Greet Open House is 
Wednesday, September 5th from 7:30-8:30 pm in the Parish Center!
Past & present Youth Group members are encouraged to attend as well as all the youth of the Parish and their families.  Come and meet the new director, Belinda Basaca Zeitlin, learn more about the ministry…
and enjoy some refreshments…
All are welcome!

Belinda Basaca Zeitlin:  516-676-0676;  email:  stbonym@gmail.com.
We meet on Sundays from 6 – 8 pm in the Fr. James Donohoe Parish Center.  All 8th – 12th graders are invited!
For up to date information on all of our events email stbonym@gmail.com to join our weekly mailing list or follow us on Instagram at STBONYG
Follow us on our  Instagram, username: 'stbonyg',
Who is your new Youth Ministry Director?
Dr. Belinda Basaca Zeitlin, MS, MD (aka "Dr. B") is a pediatrician and has been a St. Boniface Parishioner for over a decade.  She and her husband were raised in Glen Cove and returned to the area in June 2000 to raise their now teenage boys.  She has extensive training in youth empowerment, interpersonal communication and leadership skills. She serves as member to the Pastoral Council, an Extraordinary Minister and lector and has launched several new initiatives at our Parish including the Parish Yard Sale and Christmas Around the World. As a parent and pediatrician, she has prided her professional work on being a sentinel for child protection and anti-bullying. As a child advocate, her life's mission is to empower youth and instill leadership skills that will last them a lifetime.
Some dates to mark on your calendar
:
Sunday, September 16th  6 
– 
7:30 pm
First Youth Group meeting in our meeting room at the Parish Center  
Saturday, September 22nd – 10 
am – 
3 
pm
3rd Annual Parish Yard Sale 
Sea Cliff Minimart – Details TBA
First Sandwich – 
Making Saturday in the Parish Center
,
immediately following 8 am mass, devotion and bread blessing (around 8:45am)