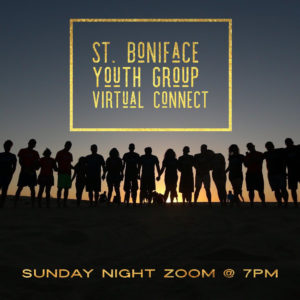 Want to stay connected with other teens but can't get out, or don't think you have the time?

Need a place to share YOUR story of how you are doing during this pandemic?

Need prayer for yourself or a loved one?

Want a safe place where you can ask questions about your faith?

Want an opportunity to win gift cards to Starbucks and Choppers Burger Bar?
If you answered yes to any of these questions then please join us for our new monthly virtual zoom – St. Boniface Youth Connect!
What is St. Boniface Youth Connect?
It is a place where teens can meet new people, grow friendships, and draw closer to God.
It's a place where teens talk and adults listen.
It's also a place where teens can plug into the Word of God and prayer with the support of the church.
This event will be lead by
Guest Youth Minister & Confirmation Catechist Sally Doulton
For dates and log in info/RSVP email us at:
You can also check the St. Boniface Youth Group Facebook page for the upcoming dates.
We look forward to meeting all of you and hearing about your lives and questions about your faith.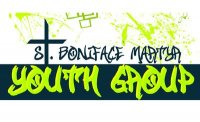 Our Youth Group gives teens the opportunity to meet and foster lasting friendships while exploring our faith and belief.
Check us out, bring some friends, make some new ones! Join our Facebook page "St. Boniface Youth Group".
Belinda Basaca Zeitlin: 516-676-0676; email: stbonym@gmail.com.
For up to date information on all of our events email stbonym@gmail.com to join our weekly mailing list or follow us on Instagram at STBONYG
Follow us on our Instagram, username: 'stbonyg',
Who is your new Youth Ministry Director?
Dr. Belinda Basaca Zeitlin, MS, MD (aka "Dr. B") is a pediatrician and has been a St. Boniface Parishioner for over a decade. She and her husband were raised in Glen Cove and returned to the area in June 2000 to raise their now teenage boys. She has extensive training in youth empowerment, interpersonal communication and leadership skills. She serves as member to the Pastoral Council, an Extraordinary Minister and lector and has launched several new initiatives at our Parish including the Parish Yard Sale and Christmas Around the World. As a parent and pediatrician, she has prided her professional work on being a sentinel for child protection and anti-bullying. As a child advocate, her life's mission is to empower youth and instill leadership skills that will last them a lifetime.